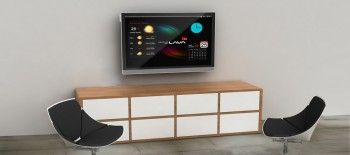 Phew!!! With the slew of Apple gadgets taking the market like a storm its okay if you are not very amazed with what you are reading right now. Rest assured, amazed you will be perhaps after the iPad fever has mellowed down a bit.
Now coming to the topic; a Swedish company called People of Lava, yes you read the name right,  has come up with a 42″inch HD-LED TV called the Scandinavia.  Its actually an Android based Google TV with multiple capabilities ranging from TV, Internet, Multimedia, Internet and Social Media – all interconnected.
To start with it comes preloaded with a lot of free apps like YouTube, Google Maps, Weather, Time, Calendar, Internet Browser and much more. Also it gives you the option to connect to social media sites like twitter, facebook and orkut. Whats more amazing is the fact that they have installed their own customized email program to check emails on the TV itself. Android being an opensource we can expect a lot of other apps shortly for this TV, which also has a thoroughly improved UI for the TV.
The company does a lot of work in the hotel space perhaps you would know where you saw it  if you come across one.

Source: Crucnhgear
Similar Posts: